One goal,One dream: The Mission of a DNA-powered Lab-on-a-chip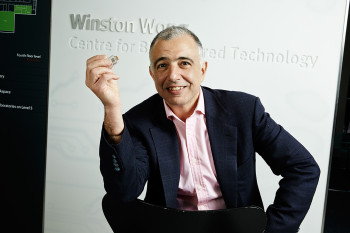 Imperial College London Professor Christofer Toumazou with his Genealysis chip, which can analyze DNA within 30 minutes and without a laboratory. The chip is powered by a mechanism that uses biology input from DNA to run analysis. The patented mechanism is now nominated for a 2014 European Patent Office Inventor Award.
Christofer Toumazou believes he can change the world with his "one chip, one bug – one chip, one drug," slogan. A nominee for the European Patent Office's 2014 European Inventor award in the Research category, Toumazou co-founded three "intelligent" medical diagnostics and therapy companies and holds more than 50 patents total, with 40 related to healthcare and semiconductor technology.
The nomination honors Toumazou's patent for the technology behind what he calls the Genealysis chip, a USB-like chip powered by DNA biology instead of a more traditional electrical input. The chips can analyze DNA within 30 minutes and without a laboratory.
Propelled by his son's devastating genetic renal disease, Toumazou hopes the chips can play a large role in early disease detection and personalized medicine. The technology is now being brought one step closer to consumers through the unregulated cosmetics industry, as a means to remove the stigma associated with such devices.
Consumer electronics to biological microchips
Toumazou, a professor of engineering at Imperial College London, says his initial research in consumer electronics showed him that while the ever-growing digitalized world was great for consumers, it was problematic for the healthcare and biology sectors.
"My passion made the change from the consumer-based digital world into the healthcare world by using similar technologies– microchips and computer chips– that they use for mobile phone arena, but interfacing them to biology," he says. "[To do that,] we don't need the high precision of a digital world; what we do need is for these devices to be intelligent, low-power, wearable. We want to take away the intrusiveness of these technologies, as well as the stigma of them being medical."
Using this philosophy, Toumazou created a "replacement" cochlear prosthetic for born-deaf children. The result was a low-power microchip that could interface to a child's biology with hardly any power consumption and could do the same thing as a traditional cochlear implant.
"For me, that was the start," he says. "That was all about providing a therapy using microchips."
As Toumazou continued to focus on microchips for biology, he co-founded Toumaz Technology and created what he calls a "digital patch," something similar to a small bandage, which sticks on the chest and continuously monitors vital signs using a miniature processor.
Not long after the founding of Toumaz Technology, Toumazou's son was diagnosed with a genetic renal disease, and subsequently, went into renal failure.
Source: Christina Jakubowski, News Editor
SUBSCRIBE TO OUR BLOG IN THE RIGHT SIDEBAR MENU TO RECEIVE OUR DAILY BLOG POST DIRECTLY TO YOUR E-MAIL
SUBSCRIBE TO OUR NEWSLETTER TO RECEIVE A MONTHLY MAIL WITH MORE RELEVANT INDUSTRY AND COMPANY NEWS